Propertyguru's Brief
"We have been focusing on improving the user experience of our website, making it responsive for mobile devices and optimised the search experience last year. However, as a content-heavy website, there is still a long way to go to make it the best in the industry. We are seeking an agency to provide research and design to further improve the website."
The 'light house' Metaphor
The property market in Singapore is one of the most competitive in Asia. One looking for a property online, is like a sailor navigating through a vast ocean of information and rocky situations with unreliable agents. Propertyguru acts like a lighthouse in the property market, guiding these 'sailors' to their safe harbour, their dream home.
PropertyGuru business model
PropertyGuru is the dominant property site in Singapore, and has a strong presence in Southeast Asia. The group claims to serve 16 million users and generate 500,000 enquiries a month, driving US$15 Billion in annual transactions.which leads to the rise in the number of property agents in the last couple of years. (Tech in Asia, Sep 6 2016)
From our research we understand that even though the consumers searching for a property is not a direct revenue stream for Property Guru, they should not be overlooked as a critical part of their business success metric.
In the event if we lose our consumers, the lack of traffic would cause our agents to lessen their opportunities in property sale or rental, this might caused agents to start migrating to our competitors platform and the lack of agents on our site might in return caused property developers to reconsider advertising their new property launchs with us.
Competitor Analysis
During our competitor analysis research, we found out that our client has done well with their branding, which is proven by having the highest traffic and direct search. However, we identified that are 2 of potential threat;
99.co has stronger social presence probably because of its user-friendly and property-centric interface which appeals more to the younger consumers.
SRX, backed up by Singapore Press Holdings, has some of the most up to date and comprehensive tools to evaluate market, one of which is X-Value a realtime evaluation tool. It also have the strongest SEO (Search Engine Optimization) coming up first when consumer runs a search.
Heuristic Evaluation
During our heuristic evaluation, we also realised there was inconsistency in the primary navigation, while scrolling the navigation turns into a 'hamburger' menu. Also the footer was different on various page, it can be rather confusing for the user.
'Sale' and 'Rent' button was also repeated at the filter/search bar which was unnecessary as they are with close proximity on the page.
Another concern was also the Ad placements on the website, which were placed in inappropriate areas and Property agents blasting their details all over the property, affecting the aesthetics of the website.
Interviews & Usability Testing
We started our investigation with contextual interviews and usability testing of PG's website and competitors website. We spoke to 2 property agents (Propnex and ERA), a few locals and foreigners who have the intent of buying, renting or had bought a property. The intent was to gain insights from all angles; Buyers, tenants and property agents.
Interesting insights Agents:
- Propertyguru recently increase the price of the agent package
- Agents have X amount of points to pump/refresh their listing
- Agents use the tools on SRX but leverage on PropertyGuru high traffic
- Agents have to download agents's version Propertyguru on mobile
- Agents don't prefer to use 'Ask Guru' function, cos consumer abuse them
- Some agents was willing to pay for professional photos of property
- Some agent values personal branding
- SRX application is 'agent-friendly' has a "refresh all" listing, but not PG
Interesting insights Consumer:
- Some agents create 'fake listing' as a form of advertisement
- Foreigners enquired about a property but agent introduce others
- Consumers don't know what 'Ask Guru' function is for
- Some consumers prefer to deal directly with home owners
- Consumer feels that agents obscure property photo
Card Sorting
We also did a test with existing content on some consumers and property agents. Due to limited resources and heavy amount of content, we unable to conduct a full scale card sort exercise. So based on our assumptions, we decided to test content that we feel was not clearly labelled. The result shows that some of the terms used was confusing.
We didn't have the luxury of time to conduct a second card sort, we relabelled and recategorised the existing content based on our assumptions.
Affinity Mapping
So after half a day of interviews, we marched back to campus and started transcribing our findings and dived into affinity mapping.
I must say this is one of the most tedious, intense but fun affinity mapping session I have had in General Assembly. 5 hours and 2 beers each, Elson, Tom and I derived at our "I statements" and coined the "light house" metaphor and called it a night.
Crafting the Personas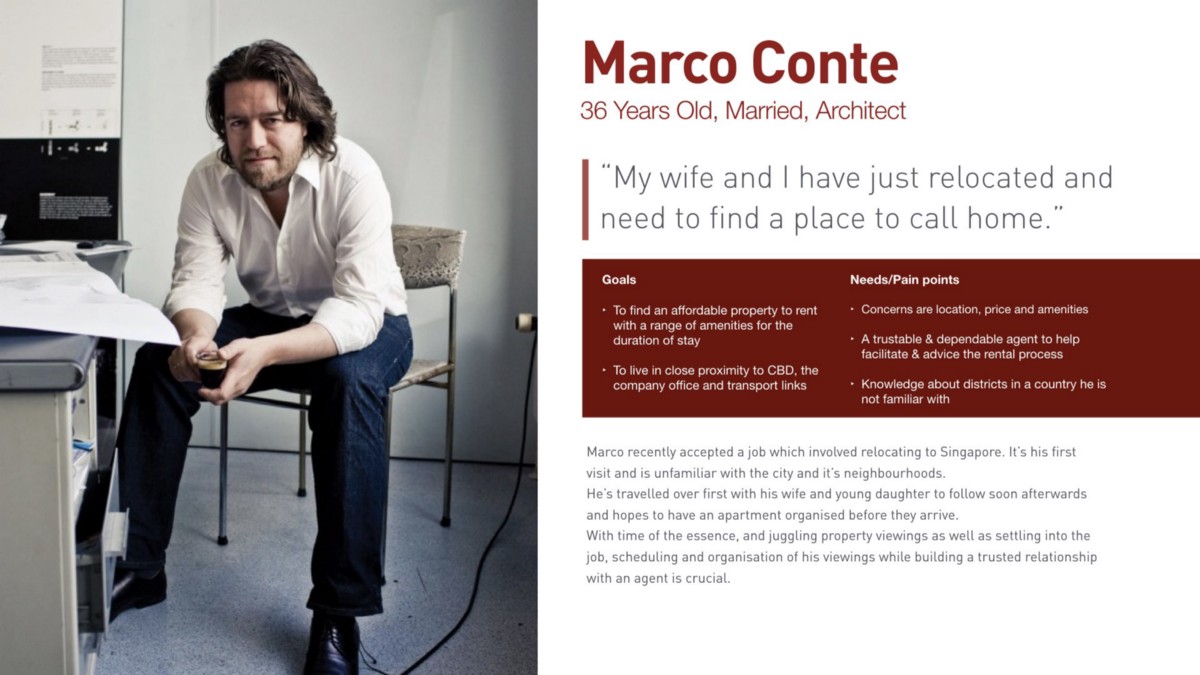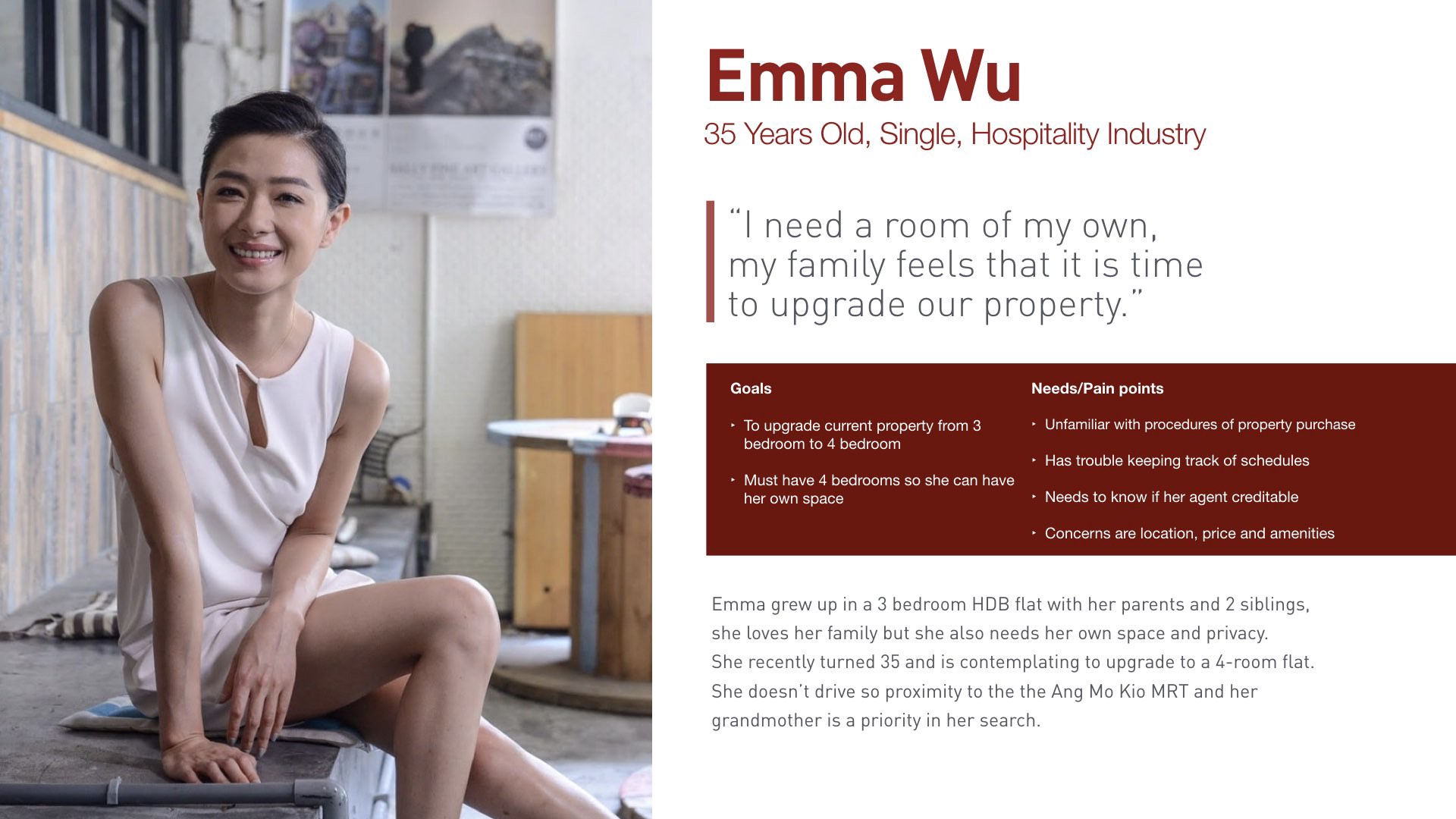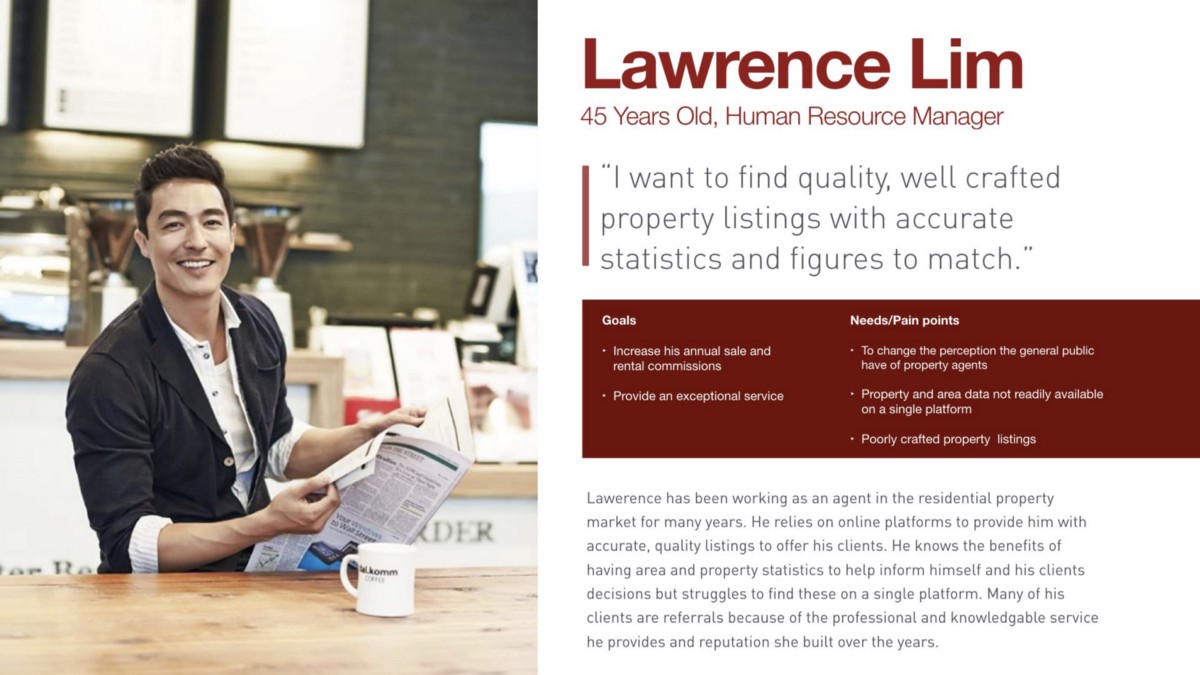 After synthesising our findings, we begin crafting our personas. We crafted 3 personas an expat looking to relocate, a misconceive property agent and local potential property buyer to show the extensiveness of our research.
It's known that in Singapore when we ask our other half to get a flat, it is interpreted as 'lets's get married', which is also a local cliché. We wanted to show more realistic and lesser known side of Singaporeans, thus Emma wu, the persona we have choose to work on.
Previous Learnings: Crafting a proper persona is really important as it helped define the tasks and features to prfioritize for this sprint cycle. Personally the choice of persona image, name and backstory helps give the persona 'life'.
New Learning: Have individual members design a persona and defend it. This we can have a focus on the redesign based on the persona.
Consumer Journey + Storyboard
Emma consumer journey is broken into 2 parts. First part is online; where she did her research right up to the point she schedules a viewing. Second part of her journey is her experience offline when she meets her agent in shining armour whom helped her acquired her dream home.
Understanding Emma's consumer journey, give us a better understanding of the features and solutions we should look into developing.
From the current sitemap, we can tell that Propertyguru has a massive amount of content on their website and it can be quite a challenge to work on. The parts highlighted in maroon, were the parts we decided to test in our earlier failed card sort exercise.
In the new information architect, based on our assumptions we decided to combine "Popular Properties for Sale" with "Properties for Sale" and "Popular Properties for Rent" and "Properties for Rent" into 2 categories. We further simplify the top navigation by removing "sale" and "rent" as it is already part of the search filter. We also learnt that there were useful tools like mortgage calculator that was "hidden" in the "More" button.
Usability Testing (Low-fi prototype)
Given the tight timeline, we manage to run a couple of usability test only on the mobile version while we worked on the Hi-Fi prototype concurrently. Most of the people we tested on managed to perform the task given on the mobile version without much difficulty. We prioritised on improving the navigation and user experience based on feedback and intuition, which also means compromising a little on aesthetics and interactions.
Business Strategy
From all the data we have harvest, service Blueprint helps us understand various touch points in our persona's journey, identifying opportunities that allows us to design services to elevate consumer experience with the brand.
Future Developments
Brand collaboration is becoming and trending way to elevate consumers experience with a brand. We thought that it might be interesting to do a partnership with one of the transportation giant, Grab.
Creating a tangible incentive to help property agents value add to their service. This might also increase the chances of them closing a deal and helps justifies the recent price increase in PG's agent package.
Depending on the type of package the agent subscribes to, each package have a certain amount of promo codes, which they can choose to give it to a potential buyer or use it themselves. We shared this idea with some agents and potential buyers and it was quite well received.
When we spoke to a foreigner investor looking to buy a property, she shared her experience, when she was on a bus and chanced upon a neighbourhood she was really comfortable with. She then proceeds to run a search on PG but to no avail. It might be interesting to leverage on the geo-location technology, so when a potential property buyer or tenant is in the area, they can use this feature to review the listings in the area and contact the agent.
One of our objective was to build the bridge of trust between agents and consumer, one of the issues we identified was that agents feel that some consumers are just calling them to gather information with no real intent of buying or renting, while consumers feel that agents are all about the profit and that consumers interest are not agent priorities. Also when some agents posted 'fake listings' on PG, it comes across as unreliable to consumers.
To this remove stigma, we are proposing for consumers to write a testimonial for the agent, only after they have had dealings with the agent and it will be up to the agent to publish it on their agent profile.
This will help build up the agents credibility. Encourage the agent to keep up the good work and increase sales and hopefully results in lesser 'fake listing'.
Schedule and Costing
For this pitch, we are proposing to adopted the agile methodology and work on 2 weeks sprints cycle for 6 months proposal if we were to awarded the job. And made an attempt to come out with a fee proposal. This practice allows us to gain some insights on being a project manager.
Team G.E.T (it)
Retrospective
On this end note, this has to be one of the most intense project I ever worked on during my short stint here at General Assembly. The intensity stems from tight timeline and vast amount of content to synthesise, 2 weeks is definitely too short of a time. There is heaps of room for improvement for sure, one which the search filter. If time permits would definitely want to relook our prototype!
We are contented with the solutions we presented as they are practical and feasible but the biggest challenge was to reiterate and better our solutions. As some of our solutions were being reflected on PG when we refer back during our redesign. The consolation was that at least we are on the similar page as PG.
Overall we had a great run on this project, most enjoyable parts were ideating new features to further enhance the user experience on propertyguru's website, brainstorming during affinity mapping and improvising during our presentation.